Block Slider / Dynamic banner
Add to your websites effective animations, banners.  It is very simple, just add slider banner.
How to do it?
1. In section Page pick up subpage where you want to insert banner and click on New Block

.
2. Open tab Advanced and here pick up block Dynamic banner.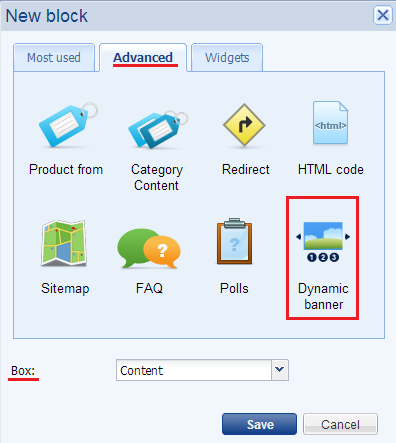 Banner can be placed into various areas - into header, main content column, sides columns, footer. The placement choose in line of Box.
3. Save.
4. Upload images for banner by clicking on Add frame.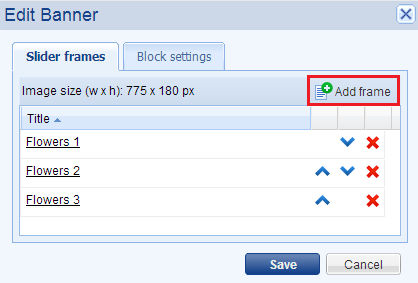 5. Insert title, image and redirection:
Title: displays when user go over picture with cursor.
Image: image pick up from section Files. If it's not there, just upload it via Upload.
Redirect: you can redirect particular image. (By clicking on it will be customer redirected on request page.) YOu can choose:
None - without redirection
Website URL - redirection to optional URL address
Internal page - pick up one of pages you have created in section PAGES
Category - pick up one of the categories you have created in section PRODUCTS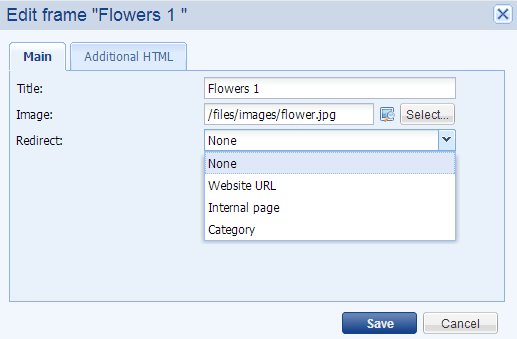 Tab Additional HTML - is for advanced users. With HTML you can into banner insert text, buttons and different elements.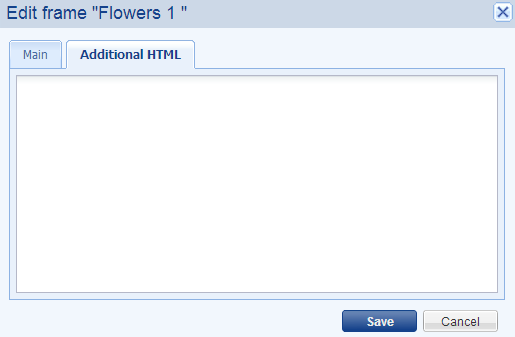 6. In tab BLOCK SETTINGS set the look of banner:
Theme: the view of handy moving between pictures. You can add dots, arrows, numbers. Changes you can see in Preview.
Effect: effect of automatic movement to another picture. You can choose from eight  types of moves (Fade, Slide left, Slide right, Slide down, Slide up, Move under, Clip in, Clip out).
Time period: in what period will next picture shows up (no automatic shifting, No delay, 3 -5 - 10 seconds).
Dimension: width x heigh
Class: this line is for experienced user for custom editing of banner.
Location: banner can be moved /copied to another page or be set as Global block which displayes in all pages.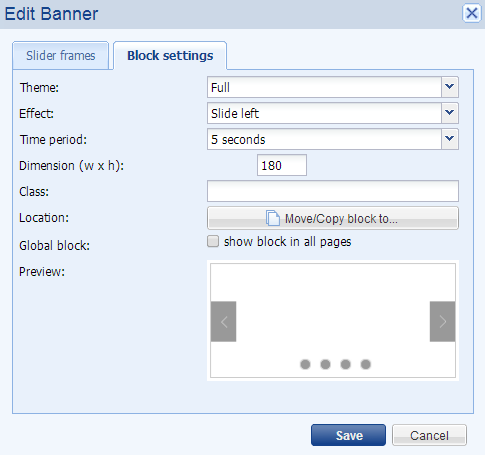 Attention: If you use watermark, this displayes also in images of banner. If you wish to banner shows without watermark in section FILES create directory with title "slider" and here upload images of banner. Path to the banner images will be /files/slider/title-of-image.jpg