Work with table
Create table with the Text block.

In this block click on icon: 

 Insert / Edit table.
Fill in required fields and click Insert.
If you want to edit the table, click on table and after that on icon 

 or click on cell of table with right part of mouse. Pick up Table properties.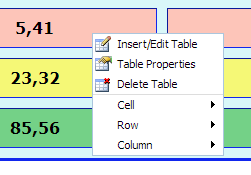 Features of table: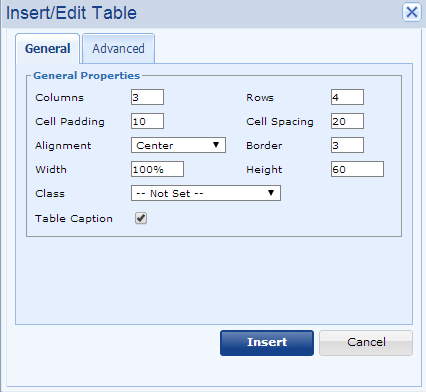 Columns - number of columns
Rows - number of rows
Cell Padding - padding cell from border of cell (fill in number in px = pixels)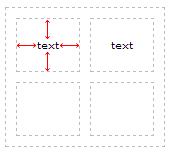 Cell spacing - distance between cells (enter number in px)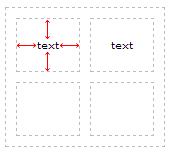 Alignment - alignment of table on website (options: center, left, right)
Border - border line width in px (e.g. 3px)

Width - width of table in px or in % (Tip: if you wish to enlarge a table to whole width of website)
Height - hight of table in px
Table Caption - above a table will appear a cell, where insert a text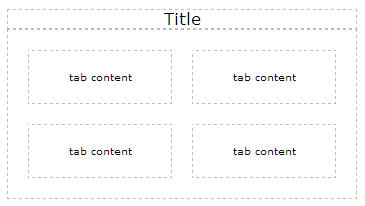 File Advanced

ID, Summary, Style, Language code - let the fields empty
Background image - insert URL address of image
Frame - border of whole table, not cells (optons of bordering: void, above, below, hsides, lhs, rhs, vsides, box, border)
Rules - none, groups, rows, columns, all
Language direction - left to right, right to left
Border color - click on icon:  and choose a color, click on Apply.
Background color - click on icon:  and choose a color, click on Apply.
Cell format 
Edit cells by right clicking on a cell of table and choose "Cell".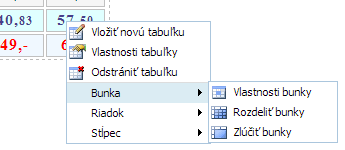 Here you can:
Merge table cells - at first you have to mark the cells you want to merge
Split merged table cells - if you have the cells merged
Set table cell properties: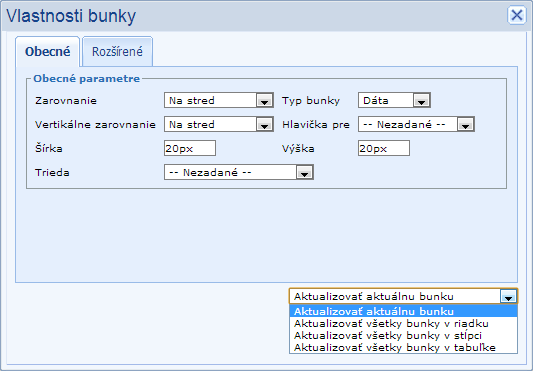 Rightwards down choose, which cells will be changed.
Current cell - that one you have marked with right click
All cells in row you are in now
All cells in column you are in now
All cells in table
Table properties have these features:
Alignment - text alignment in table - left, right, center
Cell type - header - create header from cell, data - classic content cell
Scope - if you have set cell type - header, here you can choose for which cells will be this setting for (column, row, group of rows, group of columns)
Vertical Alignment - top, center, bottom
Width of cell in px
Height of cell in px
Image background of cell, color of border and background of cell (these features you can find in file Advanced)
Row properties
Click on a row with right side of mouse, choose "Row".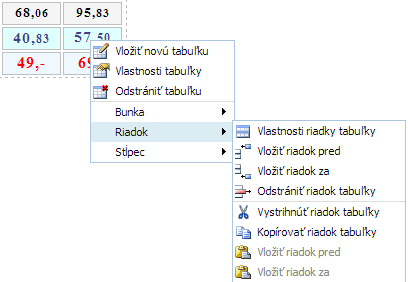 Here you can:
Insert row before actual cell
Insert row after 
Delete row
Cut, Copy and insert rows
Changing row properties. Choose if you want to update:
Current row
Odd rows in table
Even rows in table
All rows in table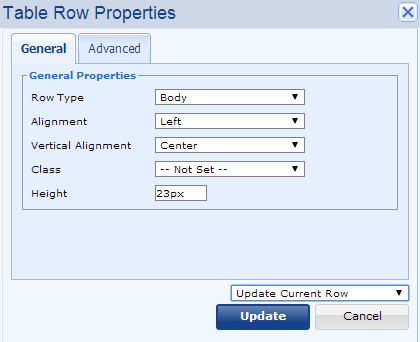 Row type - you can change row format to header or footer. If it is classic row choose body.
Alignment of text in row (left, right, center)
Vertical Alignment of text in row (top, center, bottom)
Class
Height of row - insert number in px
Column
In the table, add or remove a column by right-clicking on the cell, choose column and then select the feature you want to do (insert column before, column after or delete a column.)