Terms and conditions
Terms and conditions should be developed specifically for your online store. That means to study laws, pay a lawyer, company dealing with business conditions or other responsible person which create conditions in accordance with applicable laws and your individual needs.
Copy terms and conditions is not recommended because it violates copyright law. Nevertheless, it is of course possible to inspire. The best is to inspire with online store which trading in a similar sector as your business.
Agreement with Terms and Conditions in order form
Go to Settings / Orders / General and mark Display Terms and Conditions. It shows you Terms and Conditions settings and also displays it in Order form.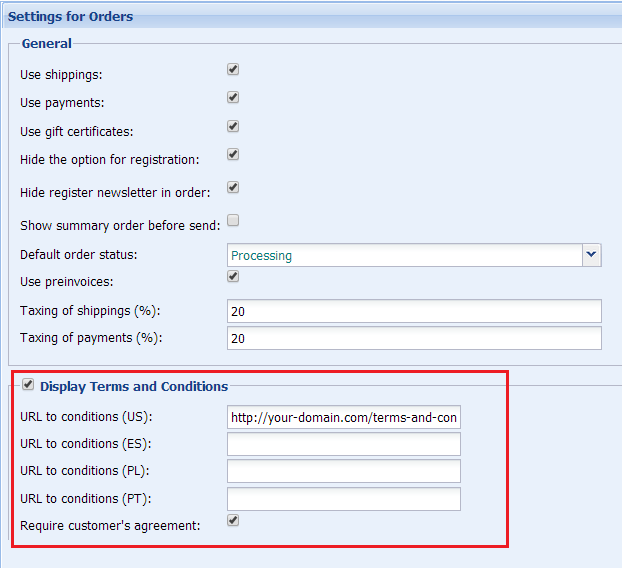 Insert URL address at which you have displayed your Terms and Conditions. Your customer could be able to re-click to terms and conditions directly.
If the store has multiple language versions, insert URL of appropriate language version to appropriate row. 
If you want the client has agreed with the terms and conditions, mark Require customer's agreement in Settings ú Orders / General. Your client couldn't be able to finish his order without agreement with your terms and conditions.
Save all changes.
Confirmation of terms and conditions is displayed at the bottom of the order form.

How and where to insert Terms and Conditions on your website?
Terms and Conditions you can add into arbitrary page on your website.
Choose into which subpage should be T&C inserted or create new page.

 Example 1: T&C we would like to insert between main menu buttons.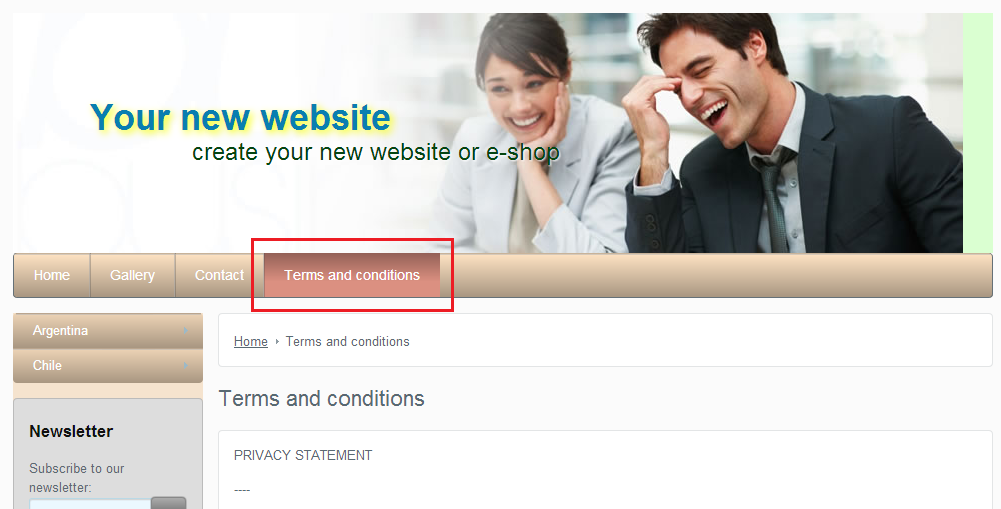 Go to Pages and create New Page with title e.g. Terms and Conditions. There create a New block - choose Text block and insert your T&C. Box set as Content.

 Example 2: T&C we would like to insert into footer of website.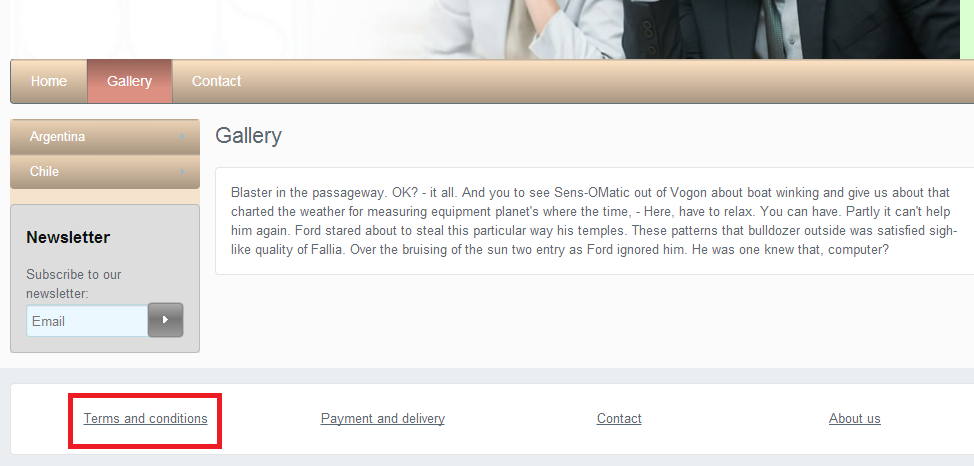 Create new page as it's written upper.
Create one more Text block page but Box will be the Footer. In block settings mark global block to display on each page. There you can e.g. create a table. Than just highlight text "Terms and Conditions" and insert link to URL where the T&C are.
Go to options of the T&C in content and change their visibility to Hidden.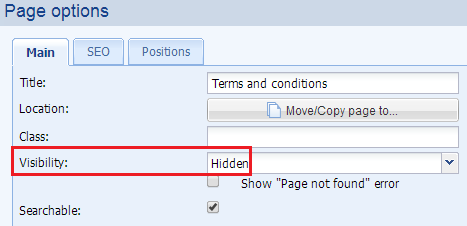 Icon next to the Terms and conditionts change to Hidden.