Setting up PayPal payments
PayPal enables any individual or business with an email address to securely, easily and quickly send and receive payments online.

IF you already have a PayPal account;
You can go directly through activation of payments option in the administration of your website.
1. In section SETTINGS / Paygates choose PayPal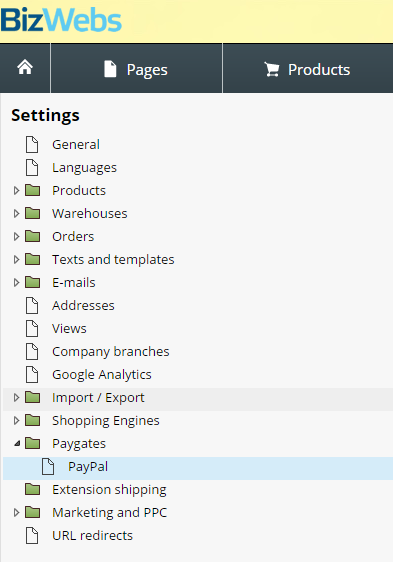 Check the icon ACTIVE and insert your email address used for your PayPal account.

Click on the button SAVE - the right bottom of the site.
In PayPal account settings Instant Payment Notification (IPN) fill in the notification URL address http://www.nameofyourwebsite.bizwebs.com/e/orders/paygatenotify/paypal.
If the paygate is active and ready for using in FLOX3, you have to firstly assign a payment to the exact type of shipping.
In SETTINGS / ORDERS / PAYMENTS create a new payment named according to new paygate (for example PayPal). Choose currency and price based on your own decision. Pay attention, when you will assign a special Paygate to right pay system.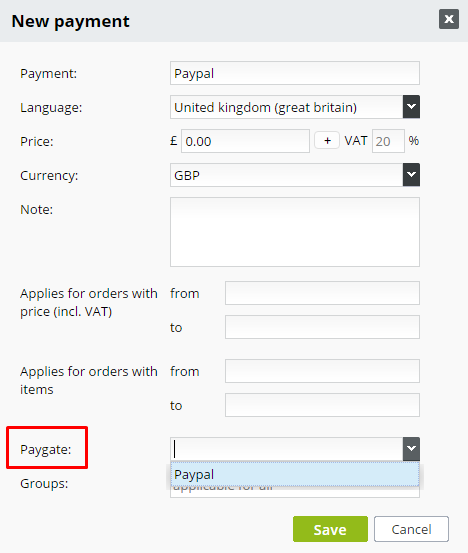 Click on the button SAVE.
This payment option will be available for your customers straight away in the order form.
2. Make IPN active. In Paypal account > Settings, fill in IPN (Instant Payment Notification) URL : https://www.yourwebsite.bizwebs.com/e/orders/paygatenotify/paypal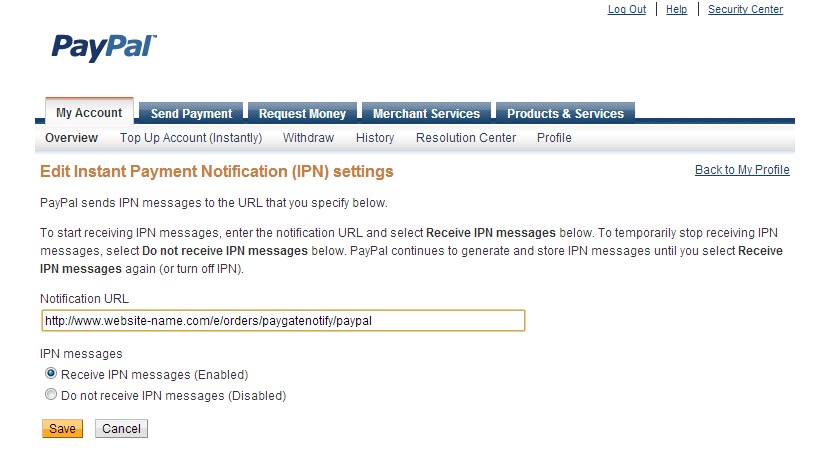 Correct status updates 
Status for orders changing in the FLOX according to PayPal payment. For recent updates, set up MORE ENCODING OPTION for utf-8. Go to PayPal account / My account / Profile / Profile and settings / My selling tools / More selling tools / PayPal button language encoding and in Language Encoding click on More Options. SAVE.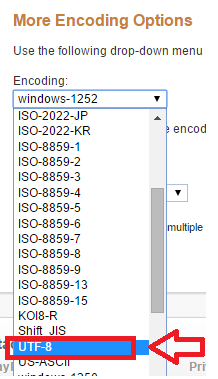 Why is this so important?
Paypal standards are setting up for windows-1251. Our system Flox is set up for utf-8. Receiving IPN messages would not be possible. Status for orders won´t change, even other data are set up ok. 


In a case YOU DON´T HAVE PayPal account, it´s necessary to create one.
How to do it:
Click on the link www.paypal.com - right side button Sign in
Choose a type of account Business and continue
Enter an email address to sign up or log in
Fill in the form about your company.
PayPal verification:
Email confirmation in process of creating a new account
PayPal will send a test payment to your bank account ( to verify your recent bank account and credit card info). In the preview of your bank account statement or in the bank will provide you with 4- digit code which you have to insert in the PayPal system.
Insert the scan of the picture of your ID, passport or whatever they will ask for inside of the PayPayl system
After these steps continue with setting the PayPal payment in FLOX 3 according to the previous manual
F&Q  

How can I withdraw my funds from PayPal?
Two options how you can withdraw funds;
A. from your bank account or
B. from you card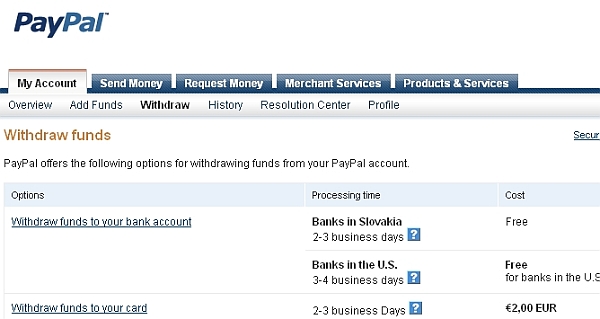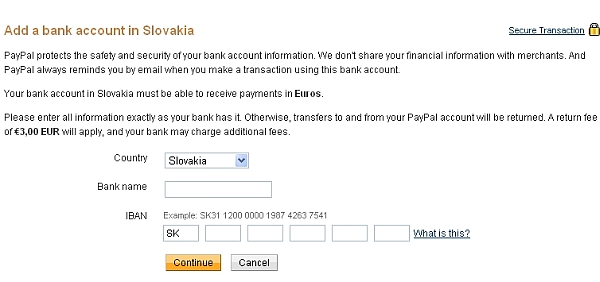 How is the status for orders changing in the FLOX according to PayPal payment?
PayPal is connected with orders in FLOX administration. Status in administration orders is changing according to PayPal ( PayPayl- paid, PayPayl- cancel ...). When the status of payment is changed in PayPal, the request is sending "direct message" to FLOX where the status is automatically added.
Log into your PayPal account in section MY ACCOUNT / PROFILE click on CHOOSE IPN SETTINGS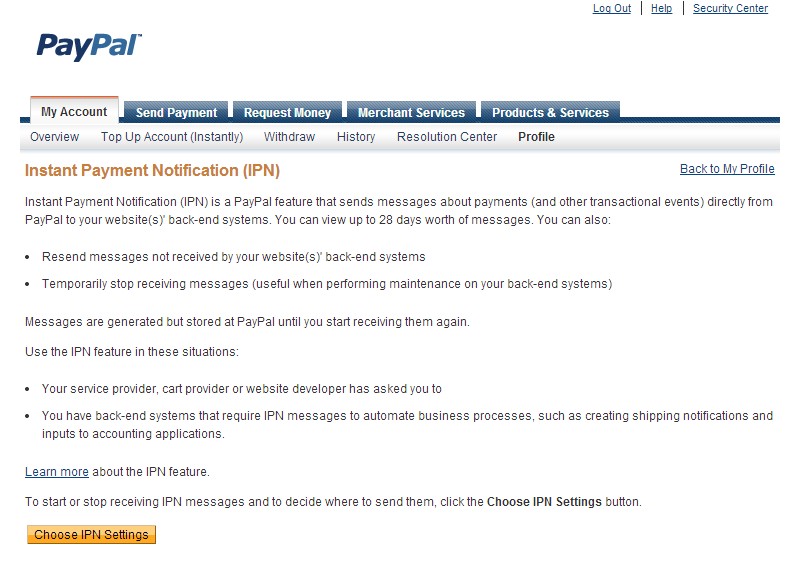 How the payments through PayPal works when I want to buy products created on platform Bizwebs?
During the filling order form your client have to choose a way of payment Paypal. Fill in order form and hit the button Send. After this action is redirected to payment platform Paypal. The client has to insert his detail information of PayPal account or create a new one if the client has no account yet.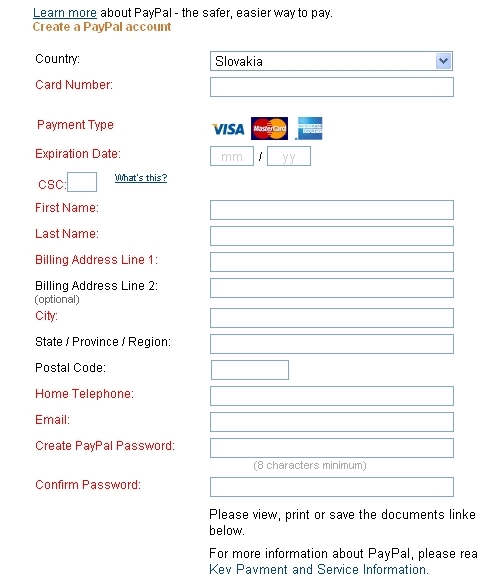 How can I send my money through PayPal?
Log into your account www.paypal.com. Clik on the section Send Money. Fill the email address of a person, who are you going to send a money "TO" and amount of money and currency. As you can see on the picture bellow: