Bonus system. Credits.
Create from your most loyal customers business builders.
Over time, as the loyalty life cycle plays out, loyal customers even become business builders: buying more, paying premium prices, and bringing in new customers through referrals.
Achieving sustainable loyalty, measured in years, requires a strategic sustainable approach.
Try credit system instead.
The perfect tool on how to get loyalty customers on your side. Make the most out of your credit system. How to do it?
Please, check our introduction for bonus system here (if you did not do it previously). 
In Section Settings/ Orders / Bonuses and rewards create new bonus program. Besides other options, don´t forget to activate USE CREDITS.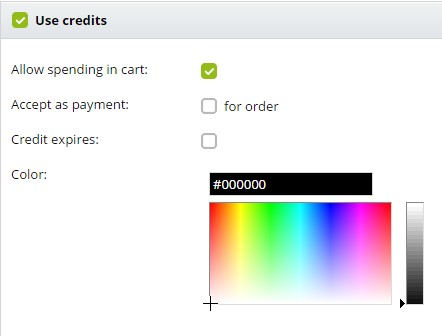 Your customers are able to spend their credits in 2 different ways:
Pay with credits for bonus products in the shopping cart. In this case is necessary to check button ALLOW SPENDING IN CART.
Pay with credits for an entire order. In this case, activate button ACCEPT AS A PAYMENT FOR ORDER.
Users can see different credit colors visible on the page. Each bonus program offers an own selection of colors for better evidence.
Click on "CONTINUE"
Credit payment for your products
Give your customers a specific payment option - to pay with credits for products in your online store. Or just pay for the product difference and thus get the product for the better price.
Set your credit payment. Follow these steps:
Open your bonus program and visit tab BONUSES.
Add NEW BONUS. Here you can see a list of products available in your online store with real prices.
Select a certain product and click on ADD PRODUCT TO BONUS PROGRAM.
Set up the reduced price for bonus and credit points. If you are a VAT-registered, set your price without TAX and SAVE.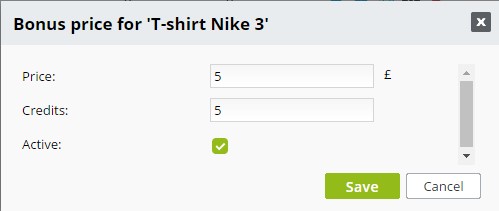 Example:
The price for product T-shirt Nike 3 is 9£ + TAX in your online store. In the bonus program, set the price 5£ and 5 credit points. It means our customer will get the product for 5£ + TAX and for 5 credits. If the user does not have enough credits on the account, system calls a notification Not enough credits to finish this order!
You can add the same product more times and edit alternative prices or credits.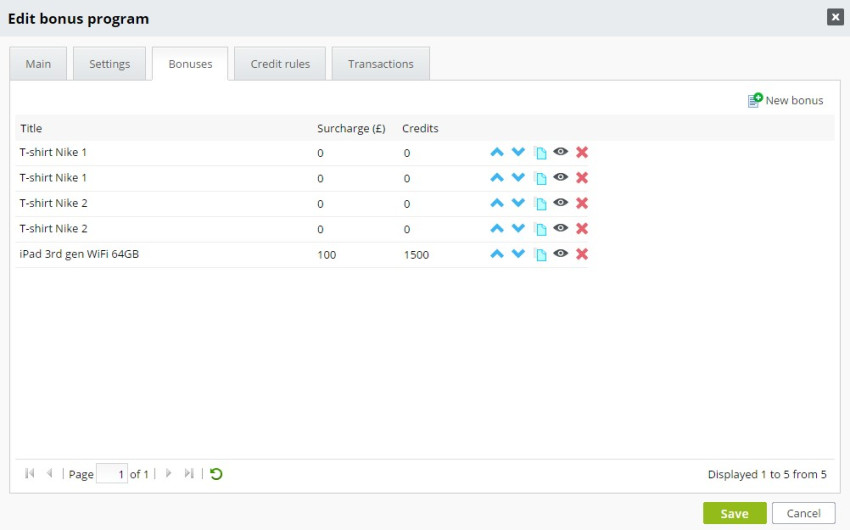 If you wish to specify other conditions and terms, visit tab SETTINGS. Find more info here. 
Accept credit payment for order
After you activate in the main settings (in bonus program) option ACCEPT AS A PAYMENT FOR ORDER, the system allows your customer in order process to see a new choice of payment; Payment of whole order in Credits. Click on the check button to confirm option.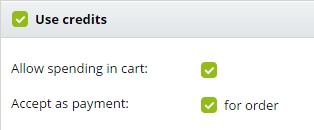 In a case you use language versions, please set up for each one Credit exchange rate:In section SETTINGS/ PRODUCTS/ CURRENCIES.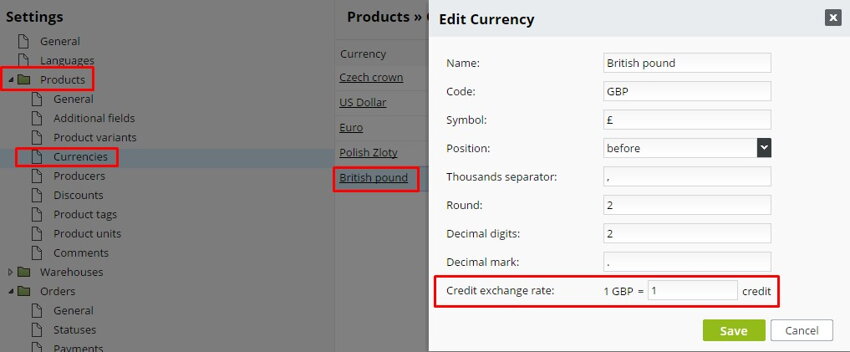 How can your customers collect the credits?
1. Admin has rights to assign credits manually to each customer account.
2. Credits are summarized / sum up after a specific action.
How to manage credits of your customers in the admin section.
Detail info about each customer credit status check out in section CLIENTS / Companies, Persons. Likewise, reward your customers with extra credits. Click on NEW TRANSACTION. The system allows you assign extra credits just for one certain bonus program.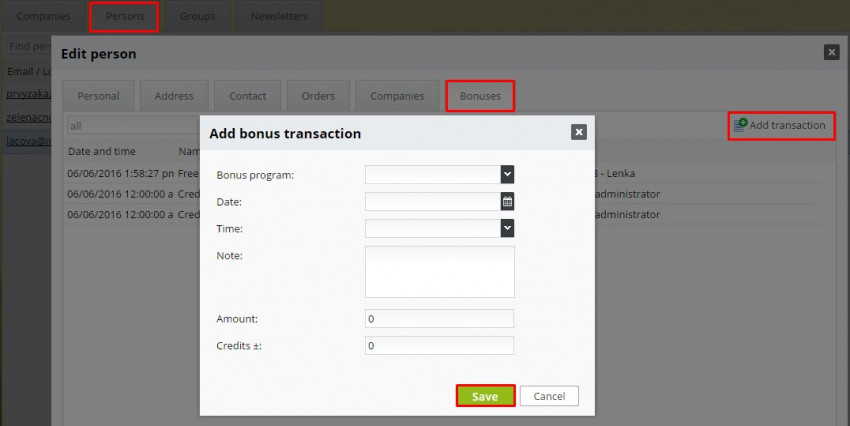 Credit rules.
In detail bonus program open a tab CREDIT RULES. Here you can set up action and credit points as a benefit for each purchase / action.
Click on NEW RULE and set up "who" get benefits and "why"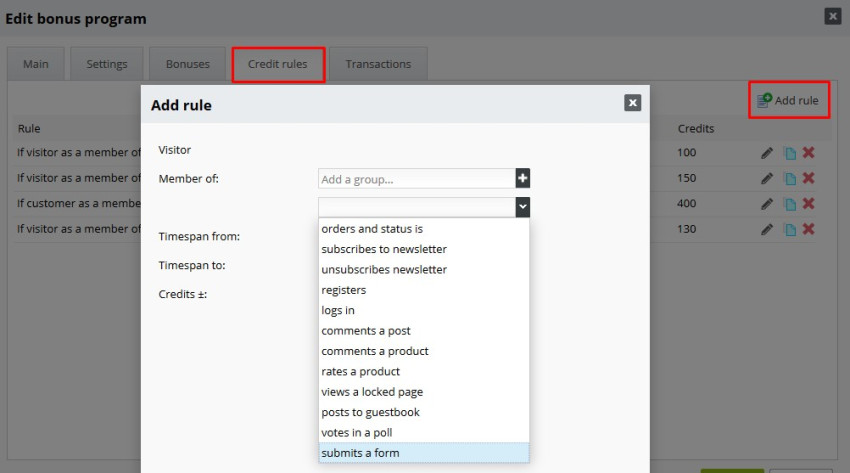 After you saved your bonus program, all actions are visible in TRANSACTIONS tab or in person/company detail section.