Selling on Google Shopping
Google Shopping allows shoppers to quickly and easily find your products on Google. Google Merchant Center is where your product feed lives. It's also where you can easily set tax and shipping rules, both of which are required before running Google Shopping Ads. A feed is simply data about your products presented in a format that Google can read and understand.
Google Shopping is currently available in Australia, Austria, Belgium, Brazil, Canada, the Czech Republic, Denmark, France, Germany, Italy, Japan, Mexico, Norway, Poland, the Netherlands, Russia, Spain, Sweden, Switzerland, Turkey, the UK, and the US.
How to start ?
In order to use Google Merchant Center, you must first sign up for an account with Google. If you already have an account with Google (like Gmail), visit merchants.google.com and sign in to get started.
If you don't already have a Google account, go to accounts.google.com and click Create account. Follow the prompts to create a new Google account.
XML feed for Google Shopping 
https://www.domainname.com/erp/impexp/specialexport/googlenakupy
Set up Google Shopping in your store
In section SETTINGS > Shopping Engines > Google Merchant Center activate box for each language version and choose your domain (visible in XML feed)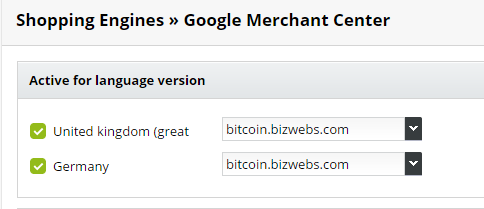 If you do not use WAREHOUSE: 
Select default Google Merchant Center availability. And save. Status is visible in your XML feed  in a case, you do not use WAREHOUSE. 

What does it mean? 
Tag "Identifier exists"- for all those tailored products, for example, unique goods, antiquities, handmade products, tailored clothes with "Identifier exists" - NO. For clothes made in a bulk, "Identifier exists"- YES. For complete specification search here. 
Disable products from XML export
This feature will remove all the selected products from XML feed. Selected products won´t be visible for Google Shopping.  
In a case you use WAREHOUSE
Select warehouse status for Google shopping. Go to section SETTINGS > Warehouses > Statuses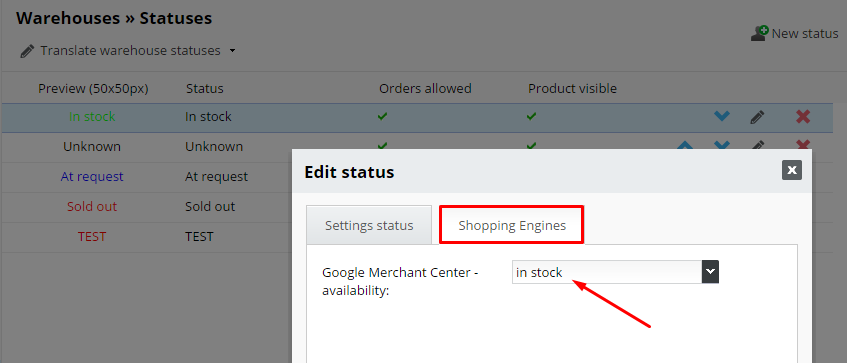 In status detail click on the tab Shopping Engines and set up Google Merchant Center availability according to the following data:
in stock [in stock]: you are able to receive product orders and deliver items. Make sure you are able to deliver your products on time ( or the item is on the way to the customer). The product is available in your stock or ready to order without a problem. 
out of stock [out of stock]: Products temporary unavailable or products are out of the list for shopping. 
preorder [preorder]: available to receive orders, but products are not accessible on the market at that moment.  Use attribute [availability date]  for the exact date, when the product is available again. 
Set up the category for Google shopping: 
In section PRODUCTS > Category> Category options select the specific category.