User registration & user profile
How to set up registration for your users? 
In section SETTINGS, click on the left panel called GENERAL. 
Find:
"Approval of registration". If you check the box, after registration, your user has to confirm an email, with a link to verify his / her email address. The registration process is done after the user clicks on the link inside of the email message. After registration, the user is registered, but not active yet. 
Admin has to approve registration through 1. the email link . 
Or 2. go to section CLIENTS - Persons. And click through the new registered user. Check the box "Active" and save. The new user is able to log in after admin approval, not earlier. 
1. 

2.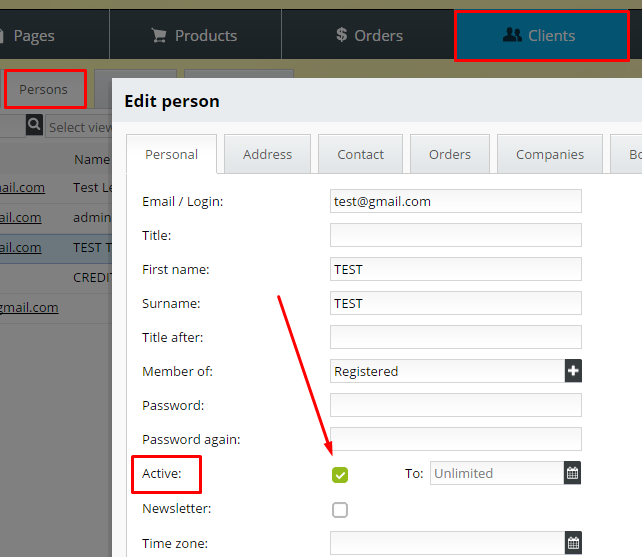 In a case, you don not check the box option "Approval of registration", new user gets an email after registration with a confirmation link to verify his / her email address. In this case, you don´t need to activate or approve any settings. The new user is able to log in immediately after registration. 
Registration form type
Next, you can choose a special type of your registration form. Basic just with the option for an email address, password, and name, surname. Or Extended, with personal / company address. Find in section SETTINGS - General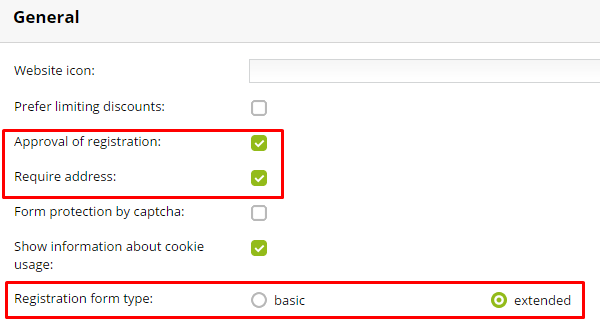 All fields of your extended form can be edited in section SETTINGS - Addresses. 
Configure your address form for: 
- visibility 
- required fields 
- initial value (for example, field country can be selected as an initial value)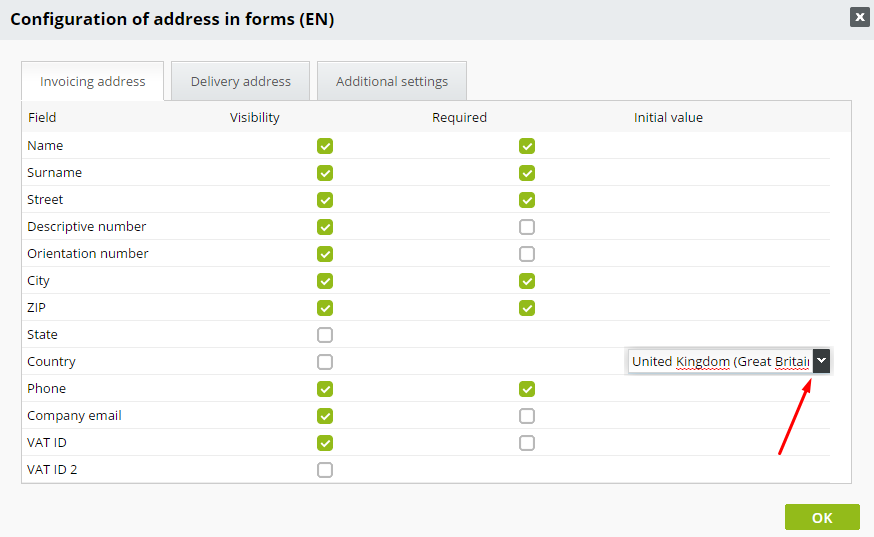 Each user can be included in one or more groups. In section CLIENTS- folder GROUPS, select existing group. Click on the group name. And check "Assign newly registered people". Save. It means, automatically, all newly registered users get all rights of the group where they are assigned.  
Registration is possible in order form as well, if the option is turn on. 
Where can you edit predefined EMAIL templates? 
In section SETTINGS - Texts and templates. Here you can find all text and template emails after registration. 

You can edit these templates anytime. Just click on the title or pencil icon.  Don´t forget to set up an automatic signature with your name, store name, tel. number, email address, website URL with www.
Sender's name and email can be edited in section SETTINGS - Emails - Senders.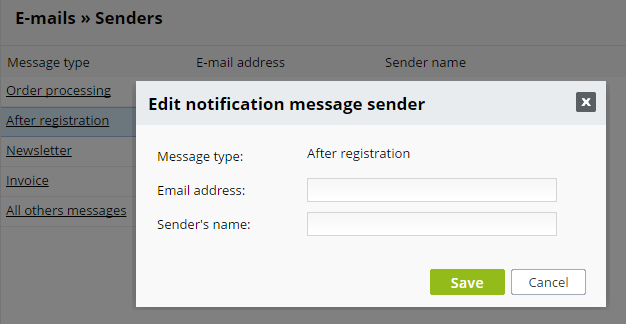 Users can register or log in via buttons LOG IN and REGISTER, components are visible on the main page, title page of your website. 
If you do not wish to show these components (LOGIN, REGISTER), go into section DESIGN- Components- Find your field and select the option, Hidden. Save with the click on the button Finished. Publish! In the right corner.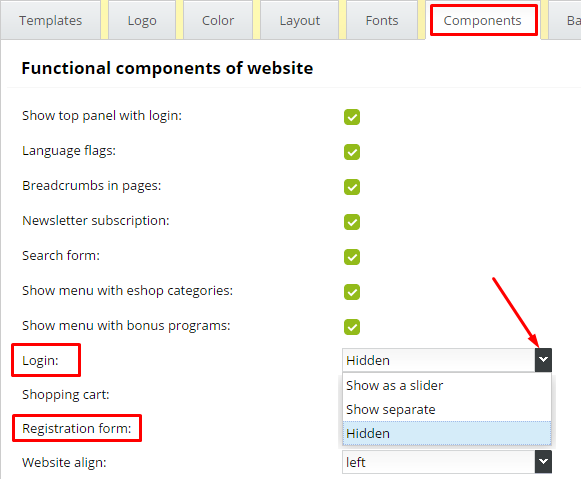 My account
Your user has access to his own profile data. After log in. He is able to edit email address. Name. Even check the history of all orders.