5 Simple Easter Ideas on How to Boost Your Online Business
Views count: 6791
What´s up there? Are you ready for Easter? This time is not 'simply for the kids' anymore and has become one of the most profitable holiday seasons of the year. If you need last-minute ideas, we have prepared 5 useful tips for you to address as many visitors as possible. Our tips can bring you new customers and new orders. They can increase your website traffic and make your website more attractive.
1. Easter design - HTML banners or link pages in Easter style would do.
Show your customers you are IN. Design your websites, social media profiles or blogs in Easter style.
Use the opportunity to get closer to your customers.
No matter what goods or services you offer. Make new pictures with Easter decorations. At once your portfolio turns into the latest hit and gets a great timing.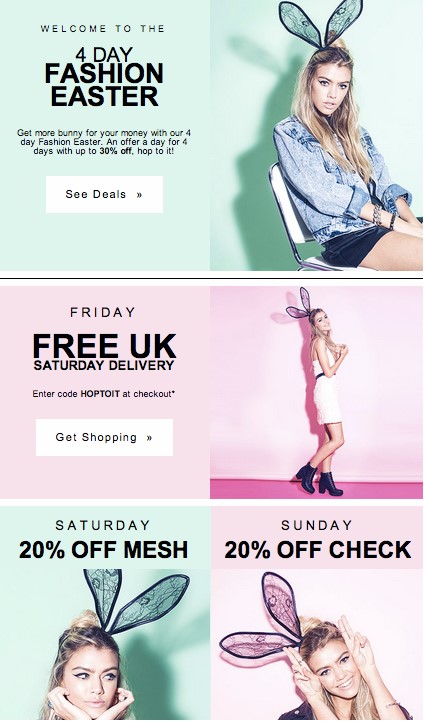 Do not forget about mobile device users. Speaking of which, we recommend our responsive FLAT template: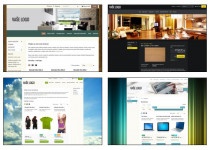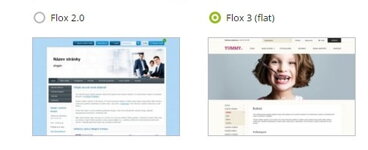 2. Send a newsletter offering a special Easter discount - again, one picture is enough. See for yourselves.
TIP: If you decide to send your customers time-limited discount vouchers before Easter, do not hesitate to let them hear from you 1-2 days before the promotion campaign is over. This way you lower the possibility they will miss your offer in the whirl of Easter shopping spree.
Remember that many of your customers will be on vacation. If you want to use your newsletter to publicize a promotion, make sure your delivery comes in the right time.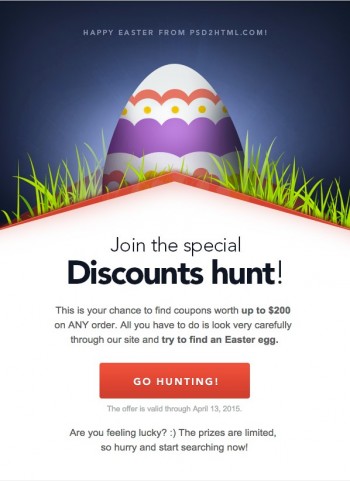 Photo by Really Good Emails
3. Easter promotion campaign - it is the right time to offer an Easter bargain to your customers.
Create individual promotion campaigns. You can use them again next year - save your time and effort. Moreover, in the future, you will be able to evaluate and manage them quicker.
Prepare the campaign in advance, have enough time to get the campaign approved. Do no forget to optimize the websites for the chosen keywords (landing page): Adapt your keyword lists. Add key phrases related to the festivities – "easter," "easter gifts," "easter decorations," "easter deals," etc. (and don't forget to optimize ads and site's landing pages too!). 
The three main countries in terms of Easter related searches are United States, followed by United Kingdom and then Australia. Most of the search terms are connected to the year, such as "Easter 2015" and "Easter 2016" followed closely by "Easter egg" and "Easter eggs". 
If your business is related to travel and entertainment you can benefit from targeted traffic related to keywords such as "Easter holiday + location" or "Easter Weekend + location".
Having a look at London related keywords you can see how the top search is "Easter in London", followed by "Easter holiday London" and "Easter Sunday London". According to the Google Adwords Keyword Tool the first and third terms are low for competition. In particular the keyword "Easter in London" had 74,000 searches during March 2011.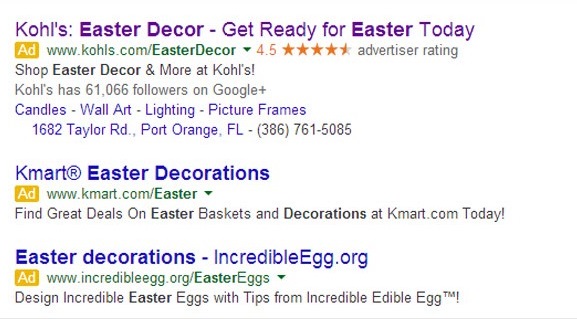 4. Easter collection – create a spring selection of your products. Don´t worry, it is not difficult and you will definitely manage.
If you sell clothes, chose a spring outfit for Easter whippers, a fresh spring work outfit collection for ladies or gentlemen ...
No matter what your branch of commerce is, you can always use Easter to your advantage.
For example, in case you sell vehicle accessories: Chose top 5 products that are a must for any driver going for Easter holiday or for whipping.
E-shops sellers of fine art supplies or decorations are advantaged during the Easter. They can adjust their product portfolio for any occasion.
5. Social media – communicate with your Facebook fans and other social media followers. Easter competitions are very popular. Have an online Easter egg hunt by placing logos or symbols on certain products and asking customers to 'find' the Easter egg within your product pages. Extend the hunt beyond the website to social media. Show the fun side of your brand. 
What about the funniest whipping story or the most delicious Easter hamper? Reward the funniest picture or the most liked Facebook comment. 
                                                                                                             Photo by somethingaboutsilver.com
As Steve Friar said, "Share your promotions in every channel in which your company is active, including the social channels. Whether you sell chocolate, Easter-themed decorations and housewares, or spring flowers, position your store as the online destination for those who celebrate."
Every festivity is a contact moment that shouldn't be missed.
We wish you the best ideas for your Easter campaign. If your campaign is on, share it with us. We gladly get inspired and will reward the most creative ideas.